Bell Controller
Motor-Control Instrument
A motor control interface for 15 vibration motors and LEDs attached to jingle bells. Used for installations and live performance. Performed acoustic or amplified. Featured in Experimental Music Yearbook 2016.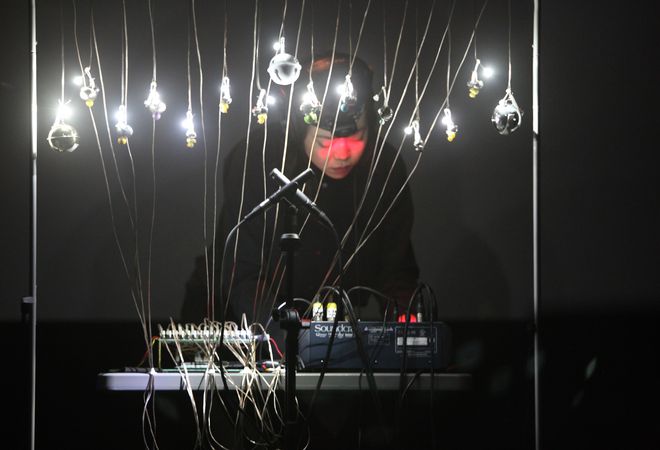 Expressive Control
The bell controller allows for expressive control through a few simple parameters:
Performance vs. Installation mode
Whether a motor is on or off
"Note on" length
"Note off" length
Intensity of motor and LED
Acceleration or Deceleration
When a motor is "on", it flashes/vibrates at a rate controlled by a combination of "note on" and "note off" rates. The combined rate is then scaled differently for each motor, preventing any two motors from flashing at the exact same rate.
The structure of the program is based on a single motorcontrol() function. Each motor uses the same function with slightly different parameters. All logic is self-contained in the Arduino. You can view the code on github.
Performance
Performances with the bell controller can either be amplified or completely acoustic. Amplification introduces other control elements that are used compositionally thoughout the performance (live EQ and mixing). Tape and magnets are also used to change the timbre of the bells.
Press
CDM Create Digital Music
"Watch these makers of hybrid physical-digital music instruments – a talk from Ableton Loop", Peter Kirn, Create Digital Music, September 3, 2020.