Life Cycles
A sound installation inspired by the periodic life cycles of cicadas.
Eighty-four cicada apparati separated into seven broods, installed long term as an accelerated representation of overlapping periodical life cycles of different broods and species of cicadas.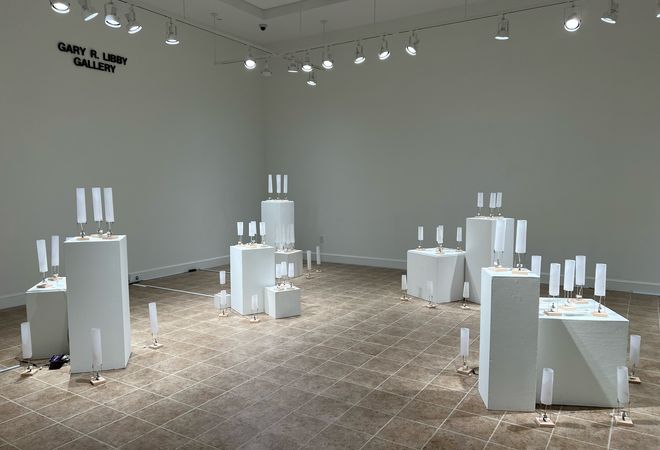 Concept
Life Cycles is inspired by the periodical life cycles of cicadas. Cicada broods' dormant periods–when they're underground–range from annually to 17 years. Once emerged, the cicadas will sing to find a mate, thus starting their next generation.
Life Cycles is structured to represent seven different broods of twelve cicadas. Each brood differs in length of dormant period, length of active period, length and frequency of their song, and strength, or loudness, of their song. Within the broods, each cicada also has individuality, as each can independently vary the strength, length, and frequency of its song, within constraints of the brood.
Occasionally, a brood may seem especially loud, which, in the real world, can be due to environmental factors or the emergence of a particularly large brood. The broods in Life Cycles also exhibit this behavior, as they have the possibility to be extra loud at a particular emergence.
Materials
84 cicada apparati: Wood, vellum, alligator clips, zip ties, ribbon, DC motors, plumbing fixtures
7 cicada drivers (one driver per brood): Arduino mega, custom designed PCB (printed circuit board)