Stellar Remnants / Pulsing
Performance Interface + Interactive Sound Sculpture
Collaboration with Ellen Reid, consisting of a piece for solo cello with performance interface (Stellar Remnants) paired with a sound installation (Pulsing). World Premiere performed by esteemed cellist Johannes Moser on February 11, 2017 as part of the Laguna Beach Music Festival.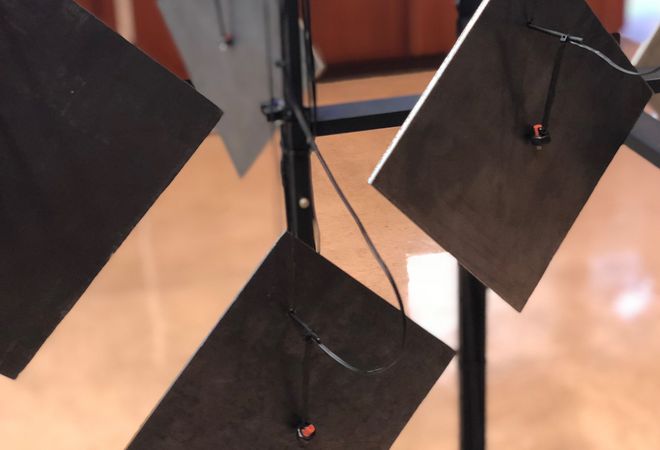 Sound Sculpture (Pulsing)
Consists of 12 steel plates suspended and paired with hanging, muted vibration motors. Four infrared proximity sensors read audience movements and effect vibration patterns and rates. Software programmed in Arduino/C++.
Performance Interface (Stellar Remnants)
Consists of a main control box with connections for two foot pedals (provided), and IR sensor (provided with stand), and USB output.
The performer uses hand motions as directed in the score with the IR sensor. The performer's proximity to the sensor affects audio playback within a "scene" of the piece. Foot pedals control scene number and calibration of sensor data. Performance software created in Max/MSP.
Media
Performance Interface (Stellar Remnants)
Sound Sculpture (Pulsing)